Finally, YOUR NIGHT has arrived! Your observation, your data, your hypothesis, your conclusions...and your opportunity to become a hunter. It is time to put everything that Daniel, Alba, Quim and Leyre have taught you into practice. Good luck!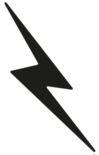 What are you Facing?
This is the binary system PSR J2032 + 4127 / MT91 21, formed by a pulsar and a star Be:
The pulsar was discovered in 2009 by Fermi, but back in 2002 HESS had already observed gamma-ray emission from that position. At that time there was no known emission from that point on any other wavelength and the source was called: TeV J2032 + 4130. Years later, in 2015, it was discovered that the pulsar formed part of a binary system with a period of 50 years. It just so happens that in November of 2017, a periastron, the moment in those 50 years when the two objects of the binary system are at they closest.
How to Solve it
We have data from TeV J2032 + 4130 that we have been collecting for several years. For each event, we have energy, hadroness, theta square, position on the camera with respect to the position of the pulsar, the time in which the gamma ray arrived (the day according to the reduced Julian day, second and millisecond) and what phase of the Crab pulsar corresponds to this time. With this data you can:
See if TeV J2032 + 4130 emits gamma rays
Check to see if there is any other source in the field of vision
Study if the amount of gamma rays that reach us from TeV 2032 changes over time
Check to see if there is something different in November 2017
See if the pulsar also emits gamma rays
If you have already been through the other 4 nights, our hunters will have told you how to do this. Now is the time for you to also be a gamma-ray hunter. If you have any questions or don't remember how to do something, you can always revisit Daniel, Alba, Quim and Leyre on their nights or ask them on the comments page on the right.
And, of course, if you want to do more with the data, the notebook on the right is all yours to try out whatever you want. But don't forget to explain what you do in some way (a presentation, a code, a video while using the web application, etc) and send it to us if you want to participate in the prize draw to spend a real night on the MAGIC telescopes!
YOUR TURN!
Enter
Your scientific notebook
Finally, the time has come…now the notebook is all yours.
We've only included the instructions you need to make your graphics visible (% matplotlib inline) and the instructions in order to read the data files. After all, guessing where the data is located isn't the work of a gamma-rays hunter scientist, but rather that of a magician!
The rest is up to you. You read that right, but don't hesitate to ask us anything …
Good luck and, above all, have fun!
import

 

pandas

 

as

 

pd




import

 

numpy

 

as

 

np




import

 

matplotlib.pyplot

 

as

 

pl




%

matplotlib inline

TeV_OFF

=

 pd

.

read_csv(

'EvtList_OFF_TeV2032.txt'

, sep

=

' '

)

TeV_ON

=

 pd

.

read_csv(

'.EvtList_ON_TeV2032.txt'

, sep

=

' '

)

Come in and start your investigation!

Dictionary of the gamma ray hunter
---