This is Leyre. One of the things she likes most is driving. She is quite happy to take her car and drive for kilometres and kilometres, watching the landscape unfold. Who's really moving: her or the landscape? Questions like this gave rise to the theory of relativity, a new way of thinking about space and time. Leyre uses the MAGIC telescopes to test precisely this theory.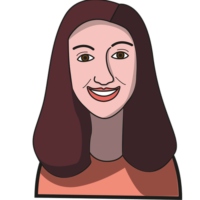 Here we are all gamma-ray hunters, but some of us are more picky than others.
Of all the gamma rays, the ones that really interest me are those that come from flares.
What are flares? We use the flare concept to refer to a period in which we get more gamma rays than usual from a particular position in the Universe.
Our way of understanding a flare isn't so different from its real meaning: it can be compared to lighting a match that is quickly consumed. However, of course, it's a flame that's millions of light years away and with a much higher energy.
In June 2015, a flare was detected from blazar 3C279, five billion light years away. The last time activity was detected there was in 1991! After 14 years, it suddenly appeared with no warning.
Normally, 3C279 is one of the many active galaxies that we can observe.
But from one day to the next, it became the brightest object in the gamma-ray sky and remained that way for 4 days. That was the flare.
For each day of observation, we plan what objects we want to observe. Our plan for today consists of remnants of supernovas, binary systems, pulsars, clusters of galaxies…
Flares, which are what interest me, are never on the cards. But, of course, you never know when they'll appear.

Dictionary of the gamma ray hunter
---