This is Daniel. He's still not sure if he prefers physics or fugazzeta pizza. But while he works that one out, here he is with some enormous glasses that allowh him to see a sky that very few others can: a sky full of gamma rays.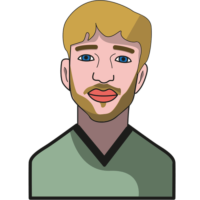 To use our telescopes, you don't need to look through a small hole with one eye while keeping the other one close. Gamma-ray telescopes don't work that way. It's impossible to even catch a glimpse of a gamma ray with the naked eye.
You need an ultra-fast camera that detects flashes of light that are a few nanoseconds long. This is the MAGIC camera: it takes very fast photos, which we can then see on the computer.
But don't think that the hunters just spend all day in front of a screen looking at pictures. These telescopes are in working order because the researchers themselves build, fix and operate them. To be a hunter you have to know how to do a lot of things.
When I'm not observing with the telescopes, I spend my time in the workshop surrounded by electronics trying to improve the MAGIC camera. Right now, we're working on new filters that allow us to carry out observations even when there's a full moon.
The Cherenkov Telescopes like MAGIC only observe at night. Even the light of the Moon difficults from being able to see the gamma rays that come from other stars, or what is left of them: that's to say supernova remnants.
That's why we've been developing filters that help us to observe when the moon is out. The filters stop moonlight from reaching the photo sensors, but the light generated by the gamma rays can still get there.

Dictionary of the gamma ray hunter
---